Inspection and measurement equipment  Metal mask tension gauge
Product Summary
Until now, our company's screen mask tension gauge STG-75 or STG-80 has also been used for metal mask tension measurement.
However, in the case of STG, the fulcrum at the time of measurement is also located in the metal, and since it is different from the screen, the influence of the metal hardness is large, and accurate measurement values could not be obtained.
The MTG-08A announced this time puts a fulcrum on the outside (frame) of the metal mask, making it possible to measure tension across the ideal plate.
Like the STG series, it is a handy type and easy to handle, with a scale for checking the measurement position as standard.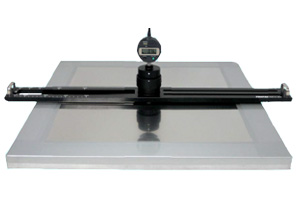 specification
format
MTG-08A-500
MTG-08A-700
MTG-08A-1000
Use
All metal masks
Measured value display
Digital display
Data output
With output terminal
Direction of measurement
Yes
Adaptive frame size (outer)
320~480mm
320~680mm
320~980mm
Measurement load
約500g
遊動測定子形状
Kamaboko type
Power supply
Silver oxide battery
weight(g)
About 2100
About 2300
About 2600
option
Printer (DP-1VR), signal cable