Adhesion measuring machine
Inspection and measurement equipment  Adhesion measuring machine TG-300A
Product Summary
Quantify the tackiness (stickiness / stickiness) of the material.
After a measuring element with a certain contact area is pressed against the material with a certain weight and for a certain time, the force at the time of peeling (at peak time) is replaced with a kilogram value, and digitized and judged.
The object is fixed by vacuum. A series of operations from measurement to printout can be performed automatically.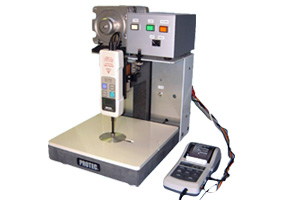 specification
| | |
| --- | --- |
| Pressing load | Provisional 770g (free setting) |
| Pressing time | Provisional 5 seconds (free setting) |
| Adhesive contact area | 7.2mm |
| display | Signed 4-digit LCD |
| Display value | Measured peak value at peeling |
| Power supply | AC100V 5A 50/60Hz |
| External dimensions | 300(W)×680(D)×372(H)mm |
| weight(g) | About 20kg |