Canopy lighting equipment
LED canopy lighting fixture JZ3352B/JZ3362
Product Summary
Newly released high output type (238W / 232W). It provides a more comfortable work space with approximately twice the brightness of conventional ones.
The life of the LED module and LED power supply unit is 60,000 hours (luminous flux maintenance rate 80%). The power consumption of JZ3352B is 125W.
Compared with the conventional 400W metal halide lamp (420W power consumption), the electricity bill can be reduced by about 70%.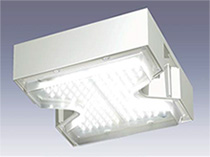 In addition, the adoption of high-efficiency LED elements and a review of light control methods have alleviated the concentration of light directly below the LED, which has been a feature of LEDs, and improved the spread of light. The brightness of the entire space is comparable to that of HID lamps, providing a bright and comfortable work space.
Characteristic
The life of the LED module and LED power supply unit is a whopping 60,000 hours.
Significant energy savings with twice the brightness of conventional.
Optical performance close to HID lamp. Compared to HID lamps, it offers a bright and comfortable work space.
Easy installation that can be removed from the packing case and attached to the canopy with the attached bolts.
The installation pitch is the same as that of our typical equipment, so repair work can be done easily.
As an option (sold separately), a cosmetic cover to hide the mounting bolts is available.
specification
Direct mounting (symmetrical light distribution) JZ3352B
Direct mounting type (high power / symmetrical light distribution)JZ3362
Waterproof type
Unprotected
Unprotected
specification
Body: Aluminum die casting
Glove: Polycarbonate
Body: Aluminum die casting
Glove: Polycarbonate
Paint color
white
white
mass
About 10kg
About 11kg
accessories
Mounting bolts
Mounting bolts
Options (sold separately)
Makeup cover:GQ0352
Makeup cover:GQ0352
Input voltage
AC100V/200V
AC100V/200V
Input current
1.27A/0.64A
2.38A/1.19A
power consumption
127W/125W
238W/232W
Specific energy consumption efficiency
88.0%(200V)
90.5%(200V)
Instrument luminous flux
11,000 lm
21,000 lm
Correlated color temperature
5,000K (Lunch white)
5,000K (Lunch white)
Average color rendering index
Ra70
Ra70
LED life
60,000 hours
60,000 hours
Lightning surge resistance
15kv(Common mode)
15kv(Common mode)
Precautions for using LED lighting equipment
* Please read the instruction manual carefully before using the LED lighting equipment and power supply unit.
* LED modules cannot be replaced.
* Lighting equipment has a limited life. After 10 years of installation, internal deterioration has progressed even if there is no abnormality in the appearance. Inspection and replacement are recommended.
* Please note that the color, brightness, and extinction ratio of the same type of device may differ due to the variation in the light color of the LED elements.
* Please do not turn on LED lighting during the day except for temporary lighting confirmation at the time of construction. It may cause short life of the LED or non-lighting.
* The LED continues to decrease its luminous flux even after the end of its service life, but has the property of being hard to turn off. In order to ensure appropriate safety as lighting equipment, it is necessary to replace the ball in the past and replace it properly by managing the use time.
* Values such as luminous flux and illuminance distribution are for reference only and are not guaranteed.
* This specification is as of March 2013. Please note that it is subject to change without notice due to improvements.