Rotary screen plate making
Rotary screen printing that realizes diversified printing and added value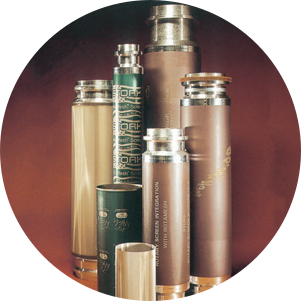 The adoption of a high mesh screen allows the reproduction of a fine design that maintains a highly accurate perfect circle that has never been seen before.
Originally, rotary screens were developed for textile printing, but by utilizing their features, they can be used for printing on wall interior materials, flooring materials and other interior materials, painting on confectionery, thick film printing, labels, etc. It can also be used for part coating such as printing, scratch-off printing, adhesives and hot melt processing.
Characteristic
・The function of rotogravure printing is given to screen process printing.
・Using jointless cylindrical platemaking solves the joint problem, a weak point of screen printing.
・Because of rotary printing, high-speed printing is possible.
・The doctor squeegee is set in the plate and the printing pressure is light, so clear liquid is obtained and clear images can be obtained. Ink transfer also increases.
・Because the ink and resist are inside the plate, stable printing is possible without being affected by solvent evaporation or dust.
・It is lightweight (1-2 kg) and allows quick plate change during printing, which is convenient for storage.
・The plate material is made of metal (nickel) and has excellent stamping resistance.
・The application amount can be easily adjusted by adjusting the printing speed, squeegee pressure, ink viscosity and screen plate mesh, thickness and aperture ratio.
・It is also suitable for printing with a large amount of coating.

type

The material of the rotary screen mesh is nickel, which has almost hexagonal holes and is a seamless cylindrical mesh screen. Usually, a thickness of about 100μ and a thickness of 40ℓ to 155ℓ are used. There are TS / TSC / TSP type screens for high aperture ratio. The lacquer plate making method is generally used for rotary screens. For galvano plate making and piercing etching plate making, please consult with the person in charge.

Lacquer version
The most popular plate making method. A plate making method in which a photosensitive emulsion is applied to the surface of a mesh screen and dried, and the photosensitive film is burned off with a laser. It is widely used from printing (fiber), wallpaper and vehicles to precision pattern printing.
  

Galvo version
Plate making by electroforming. The screen has better resistance than the lacquer version, and can express gradations. Also suitable for printing with a thick coating.
   

Piercing and etching version
A plate making method in which a nickel roll having a predetermined thickness is vertically chemically etched. Very high aperture ratio, suitable for printing with large application amount.

   

RSI prepress system for label seal printing

Characteristic

・Suitable for thick film printing to IC tag antenna printing etc. by adopting RM75 to RM405 MESH.
・It can be installed in other printing systems, flexo, gravure, letter plus, offset, etc.
・Repeat size steps can be set every 1/8 inch.
・Because of rotary printing, high-speed printing is possible.
・Since the ink resist is inside the plate, it is not easily affected by solvent evaporation and dust, and stable printing is possible.
・The amount of coating can be adjusted according to the printing speed, squeegee pressure, ink viscosity, mesh of screen plate, aperture ratio and the thickness of emulsion.