UV-LED irradiator 8332A
A controller with a simple masterpiece and embroidery
Careful selection of operability, functionality and irradiation variations. New UV-LED irradiator that pursues cost performance!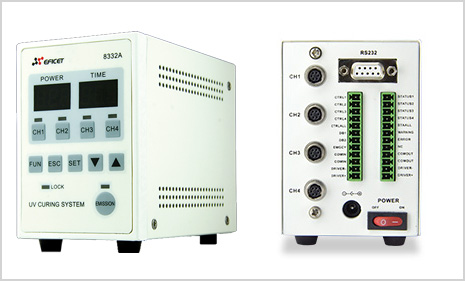 Characteristic
365nm wavelength, 11,000mW / cm2power
Stable irradiation power is realized by adopting reliable UV-LED.
・Low power consumption of 25w, long life of 20,000 hours
Running costs can be significantly reduced compared to ramp type
・4-head independent control
4 units ON / OFF independent control with one unit, time irradiation is possible
・Equipped with I / O port and RS-232C communication
Possible to control irradiation pattern by external control
basic specifications
Model name
8332A
Irradiation method
Timer irradiation
Light control value (1 to 100%), irradiation time (0.1 to 999 seconds)
Always irradiation
Dimming value (1 to 100%), irradiation time is determined by external signal
Control communication port
I / O input
Irradiation ON / OFF (response speed 20ms), data bank switching, interlock
I / O output
High pressure UV lamp
RS 232
High pressure UV lamp
Workler detection
Head connection, short circuit / disconnection, temperature abnormality
display method
Digital empty display
Number of irradiation output ports
4
Input voltage
Input voltage AC100 ~ 240V S0 / 60Hz (including AC adapter)
Consumption power
25Wmax
cooling method
Cooling method natural cooling (no fan)
Vibration (resistance)
10 to 150Hz, acceleration: 50m/s2, half amplitude 0.35mmx /y/ z direction 10 times/8 minutes
Impact (resistance)
1.5m in height, 3 times in each direction (up and down, left and right, front and back, 45 degrees)
Ambient temperature range
Use: + 5 ° C to + 40 ° C Storage: -15 ° C to + 65 ° C (no condensation or freezing)
Ambient humidity range
20 to 85% (no condensation or freezing)
quality
750g (excluding AC adapter and head)
accessories
AC adapt type, foot switch, protective glasses, instruction manual
head
Model name
AC8361 (standard head)
AC8365 (small head) ※1
wavelength
365nm (385nm is also available)
Cable allowable bending radius
30mm
Material
Copper, aluminum alloy, glass
quality
150g (excluding mounting jig)
※1. Use the included mounting jig to fix the small head.
Spot lens
Model name
AC8303
AC8304
AC8306
AC8308
AC8310
AC8312
Spot diameter
Ø3mm
Ø4mm
Ø6m
Ø8mm
Ø10mm
Ø12mm
Irradiation distance
9~11mm
11~13mm
16~18mm
22~24mm
32~34mm
35~37mm
maximum Irradiance※2
11,000
mW/cm2
9,200
mW/cm2
4,000
mW/cm2
2,300
mW/cm2
1,300
mW/cm2
900
mW/cm2
Material
Aluminum alloy, glass
※2. Dimming 100%, using fixtures, under our measurement conditions (not guaranteed values).
External dimensions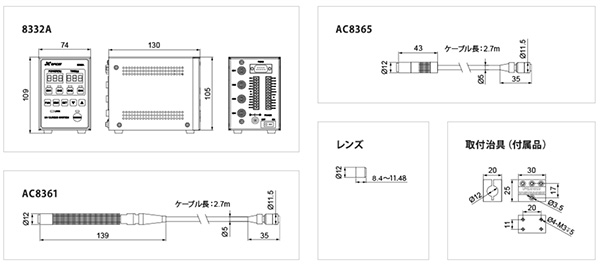 Illuminance profile (typical example)
※ WD is the distance from the lens end face to the workpiece.
※ Dimming 100%, using fixtures, under our measurement conditions (not guaranteed values).