Nitrogen purge type small conveyor
Nitrogen purge type small conveyor CSN2-40
UV curable resins cause curing inhibition by oxygen in the atmosphere. The effect of inhibiting oxygen inhibition in UV irradiation under inert gas without oxygen has been known for a long time.
CSN2-40 has been developed so that it can be offered at a lower price than conventional nitrogen purge UV devices due to its mass production effect.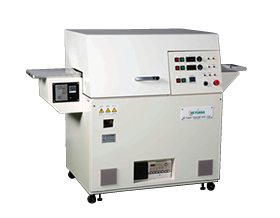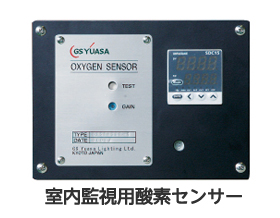 Characteristic
①Resin can be cured in a nitrogen purge atmosphere or normal atmosphere.
②Experiments can be performed in a low oxygen atmosphere with low nitrogen consumption.
③Experiments can be performed over a wide range of light conditions despite its compact size.
④Since an inverter type power supply is used, experiments under stable light conditions are possible.
⑤Digital display of transport speed, UV output and oxygen concentration.
⑥The device automatically controls the set parameters.
⑦An oxygen sensor for indoor monitoring is provided as standard to prevent oxygen deficiency and can be used safely.
basic specifications
UV lamp
Mercury lamp or metal halide lamp
4kW(160W/cm)
Lamp output
1kW to 4kW stepless volume adjustment
UV irradiation equipment
Cold mirror (condensing type)
Irradiated object
W220 × L320 × T2mm (A4 size) Weight 500g or less
Irradiation distance
Fixed 80mm from the bottom of the UV irradiation device to the conveyor surface
Transport system
Transfer speed: 5 to 90m / min
Opening height: 5mm fixed
Aperture width: 240mm (effective irradiation range 200mm)
In-furnace oxygen sensor
0.1 to 25% measurement (overall accuracy ± 1% FS)
Oxygen sensor
1 location included
Device exterior color
Japan Paint Industry Association A22-90B semi-gloss (cream)
Estimated quality
250kg
usage environment
Temperature: 5-40 ° C
Humidity: 85% or less (no condensation)
Power supply
200VAC(190~230VAC)
3-phase 50/60Hz 7.5kVA
Nitrogen pressure
0.5MPa 50L/min(MAX)
exhaust
φ100mm 約4m3/min
※Since some ozone is discharged, please discharge it outdoors.
※The exhaust duct from the equipment exhaust port should be constructed by the customer.