Ring fluorescent lamp
Ring fluorescent lamp for image processing.
A wide variety of ring shapes are available, including 50, 60, 80, 92, 110, 127, 160, 200, 250, and 300 mm.
Emission colors are also available in standard colors (three-wavelength day white) and red, blue, and green.
Classification by emission color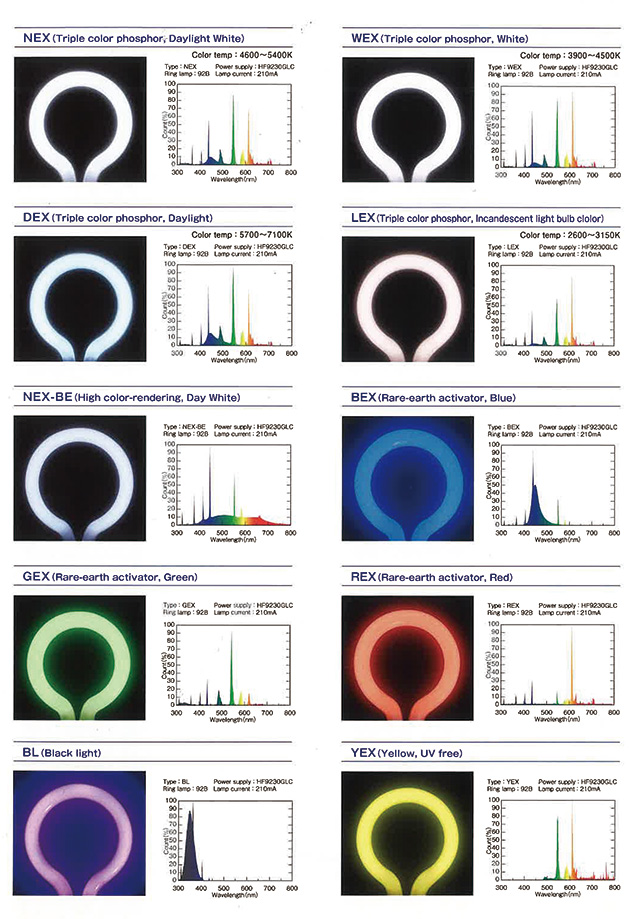 Features of fluorescent lamp
■Wavelength characteristics matched to color processing
The spectral characteristics of our fluorescent lamps are similar to the light receiving characteristics of each company CCD Video Camera.
Excellent color reproducibility in color image processing.
■Flickerless by high frequency lighting
Due to the lamp design dedicated to high frequency lighting, the stability of the lamp is extremely high,
Image reproduction without flicker is possible.
■Ideal for uniformly illuminating large areas
Fluorescent lighting that uses the discharge phenomenon increases the cost associated with increasing the size of the lighting compared to other lighting equipment.
Not much.
Suitable for testing large objects such as large backlights, web inspections and other continuous objects, and evenly illuminating large areas.
■Abundant lineup according to application
In addition to the standard color NEX, variations in emission colors such as BL for near UV lamps and YEX for UV cut lamps
There are abundant. The size is 50mm to 300mm for the ring type and 95mm to 1600mm for the straight tube type, which is the size of the target
It can be selected together. We also accept custom production in small lots.
■Extremely low heat generation
Extremely high efficiency as a lighting device and extremely low power loss such as heat generation during continuous lighting
It is designed. In addition, it is easy to operate because it is hardly affected by heat when it is installed in equipment.
■Single element with little local degradation
■Replaceable even if deteriorated
* Lifetime regulations
When lit under specified conditions (lights on for 2 hours and 50 minutes and turns off for 10 minutes), the total luminous flux is the initial total luminous flux
It is the total lighting time until it drops to 70% (60% for the color lamp) of (luminous flux when aged for 100 hours).
* Ambient temperature
Fluorescent lamps change in efficiency and startability when the ambient temperature changes. The brightness of the fluorescent lamp is
Ideal for use at ambient temperatures between 20 ° C and 30 ° C.
Care must be taken in using lamps in low-temperature places below 10 ° C or in high-temperature places above 40 ° C.
However, by using BS-1A or BS-3, it is possible to keep the light intensity constant within the range of 10 ° C to 40 ° C.
* Precautions when using fluorescent lamps
Fluorescent lamps are not suitable for lighting in extremely short periods of time, such as seconds.
If used under these conditions, the lamp and power supply will be specially ordered.
Make a note of the details of use conditions and contact us.
Features of ring fluorescent lamp
■Shadowless illumination with diffused light
Ring fluorescent lamp attached to the donut-shaped lamp cover around the CCD Video Camera lens
When set and lit with a high frequency power supply, uniform and stable lighting without shadows over the entire field of view can be obtained.
■Lamp cover
The lamp cover is made of aluminum for 50, 60, 80, 92, 110 and 127 mm,
160/200/250 / 300mm is made of aluminum cast mirror.
■shape
The standard shape of the lamp changes depending on the size. Up to 50-127mm
"B type" where the electrode is on the same line as the light emitting part, ring outer shape 160-300mm,
We adopt "GB type" which becomes perfect circular light emission by narrowing the gap between electrodes.
For the "A type / GA type" in which the electrode is bent 90 degrees to the light emitting part, only maintenance lamps are sold.
■Diffuser and PL filter can be selected
We also have diffusers for soft light and polarizers suitable for work with luster and glare.
■Compact design
This is a high-luminance lighting device with a compact design using glass tubes of 10, 12, and 14 mm diameter.

Order abbreviation
| | | | | |
| --- | --- | --- | --- | --- |
| Unit model number | Ring fluorescent light | Lamp cover | High frequency power supply | Output cable |
| 50B-GLC | 50B-NEX | LH50B | HF5030GLC | HF8012M |
| 60B-GLC | 60B-NEX | LH60B | HF5030GLC | HF8012M |
| 80B-GLC | 80B-NEX | LH80B | HF8030GLC | HF8012M |
| 92B-GLC | 92B-NEX | LH92B | HF9230GLC | HF8012M |
| 110B-GLC | 110B-NEX | LH110B | HF41030GLC | HF8012M |
| 127B-GLC | 127B-NEX | LH127B | HF41030GLC | HF8012M |
| RDY160GB-FLC | 160GB-NEX-T14-10W | DY160GB | EF4830FLC | MKR-2M |
| RDY200GB-FLC | 200GB-NEX-T14-10W | DY200GB | EF4830FLC | MKR-2M |
| RDY250GB-FLC | 250GB-NEX-T14-10W | DY250GB | EF4830FLC | MKR-2M |
| RDY300GB-FLC | 300GB-NEX-T14-10W | DY300GB | EF4830FLC | MKR-2M |
* For models with a diffusion plate, add -DF at the end of the model.
* The cable length is standard 2M. If you require an extension (3M or more), please indicate the required number of meters, such as -3M, at the end of the model number. 50-127mm is up to 5M. 160 ~ 300mm is up to 3M.

Adobe Acrobat Reader is required to view the PDF file.
Acrobat Reader is distributed free of charge by Adobe Systems Incorporated.