LED surface lighting with high brightness and high uniformity! Recommended for the backlight of external shape inspection!
The "LPM Series" is a direct-type high-brightness LED panel transmissive lighting system.
By arranging 90 x 180mm LED panels,
We can provide high brightness LED surface lighting.
Transparent and translucent objects such as glass products and synthetic resin products as backlight illumination
Inspection of external shape such as pinholes, bubbles and foreign matter in LCD, and LCD inspection process,
It can be used for inspection light sources such as substrate processes.
Features
■Long life: Rated life 30,000 hours (half value) * This is not a guaranteed value.
■Brightness: 15,000cd / m2 (white standard product)
■Uniformity: 80% to 90% or more (measured in 25 divisions)
■Dimming range: 0 to 100%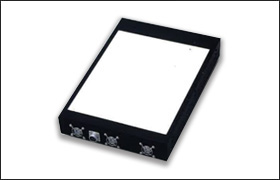 Light emitting unit size
■150×170mm、170×330mm、260×330mm、330×440mm、440×690mm、510×80mm、1050×80mm、1410×80mm etc.
Applications / Actual examples
■As backlight illumination, appearance and shape inspection of transparent and translucent objects such as glass products and synthetic resin products such as pinholes, bubbles and foreign substances
■Inspection light source for LCD inspection process, substrate process, optical characteristic inspection process, lighting inspection process