High-brightness LED chips are arranged at high density! Recommended for a wide range of irradiation!
The "GLB Series" is a lighting suitable for uniformly illuminating a wide area.
Line lengths from 216mm to 2376mm are available as standard equipment. Maximum line length: Can be manufactured up to 3996mm.
A lineup of light condensing types using diffusers and lenses tailored to each characteristic is also available, and multiple systems can be connected (the dimming function is collective dimming).
It is widely used for parts inspection, different kind inspection, defect inspection, etc.
Features
■Three types of power supply available: multi-function, simple, and variable voltage
■Realizes high brightness with optimized unique radiation shape
■Long life with low power consumption
■Suitable for a wide range of irradiation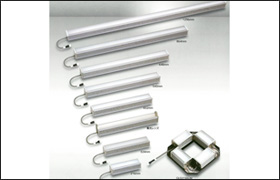 Other features
■For LED lighting designed as a fluorescent lamp manufacturer, a type that emphasizes the same diffusivity as fluorescent lamps
■Line length from 216mm to 2,376mm
■The longest can be manufactured up to 3,996mm
■Multiple system connection (dimming function is possible at once) Possible to produce RGB color
Use
■Inspection of scratches, unevenness and dents on metal plating and resin
■Visual inspection of non-woven fabric, paper, cardboard and rubber
■Inspection of film
■Automotive parts inspection
■Printing inspection
■Food and medicine, containers and glassware
■Product location
■When you want to irradiate a wide area