Output cable can be extended up to 10m
The RVC60PT100 is a high-brightness, low-power, long-life power supply for LED panel lighting devices that uses a high-brightness power LED and an optimized unique heat dissipation shape.
Two light emitting units can be connected to one power supply. Suitable for irradiation over a wide area.
256 gradations / 8kHz PVWM dimming / dimming width 0 ~ 100% by two rotary switches of ROUGH (coarse adjustment) and FINE (fine adjustment).
8-bit 256 gradation dimming / analog 0-4.5V dimming ON-OFF control is possible by the section control terminal.
Features
■High brightness, low power consumption, long life
■Minimal luminance degradation due to design with margin
■Output cable can be extended up to 10m
■Two external control terminals enable external light emission / extinguishing control and digital / analog dimming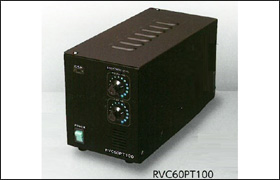 specification
■Type: Multi-function type
■Input power supply: AC100V ~ 240V
■Output power: 6A MAX
■Dimming: PWM78kHz
■Dimming range: 0 to 100%
■External control: Available Digital: 8bit 256 gradation Analog: 0 to 4.5V
■On / off response speed: 100μ / sec typ
■Weight: 1.5kg