UV-M10
Characteristic
・UV light meter with control signal for UV exposure.
・Multi-functions such as 10 channel light intensity setting, light intensity measurement, illuminance measurement timer setting, and time measurement.
・The display can be switched during illumination measurement, such as switching to illuminance or time display.
・You can choose between two types, the built-in UV-M10-P and the desktop UV-M10-S, depending on your application. (The photo is a desktop type)
・The receiver is set with UV-35 as standard. UV-25 and UV-42 can be measured by replacing the optional receiver.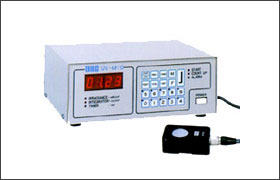 Adobe Acrobat Reader is required to view the PDF file.
Acrobat Reader is distributed free of charge by Adobe Systems Incorporated.
specification
Receiver
UV-35(UV-SN35,UV-SD35)
Measurement light intensity range
0.01~999.9mJ/c㎡
timer
0.01~999.9sec
Illuminance
Switch with switch
Range 1 0.01-10.00
Range 2 0.1-50.0mW / c㎡
Usable range
Main unit: 0-40 ° C Receiver: 0-60 ° C
Power supply
AC85~264V,47~63Hz
I / O signal
(D-sub connector)
Input (1) Remote start (2) Remote stop
Relay contact output (1) N.O. (ON at start) (2) N.C (3) Alarm
Alignment accuracy
Within ± 2% of our UV standard
Repeat accuracy
Within ± 1.0
Illuminometer sample time
1 second
Size
Body 207 (W) x 166 (D) x 80 (H) mm
Receiver 35 (W) x 55 (D) x 18 (H) mm
option
Neutral density filter Heat-resistant sensor cord
Receiver UV-25, UV-42
About SD type and SN type
The SD type has been widely used by customers who have been using exposure equipment and irradiation equipment for a long time, ensuring continuity of process management.
SD type is used in the manufacturing process of semiconductor and liquid crystal substrates, and customers who already use illuminance meters made by other companies place importance on ensuring data compatibility with those measuring instruments (projection type even in exposure equipment). SD type is used for exposure equipment and peripheral exposure equipment for liquid crystal substrates), and is recommended for customers who use illuminometers completely newly.
Indication value of SD type and SN type
In order to ensure the compatibility of process data from the past with the SN type, the indication value of the SD type (the 365 nm emission line of the high-pressure mercury lamp used as the calibration radiation source in the measurement group was measured under the same measurement conditions. It is adjusted to display 39% higher than the illuminance value shown at the time: mW / cm2 display.