Handy UV300-500-800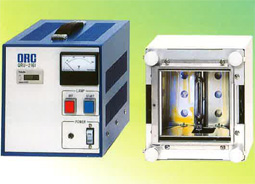 It is a small irradiation device that cures and dries UV resin and UV resin of adhesive by UV irradiation.
Compact and lightweight, it can be moved easily and is ideal for experiments.
Since the input power supply is 100V, UV irradiation is possible anywhere.
It can be used in combination with various units according to the purpose.
■Basic unit
Lamp house unit and power supply unit
Lamp: High pressure mercury lamp 300W, 500W, 800W
Reflection mirror: Cold mirror condensing, diffusion selection
Filter: quartz plate, cold filter (optional)
specification
Product name
Handy UV-300
Handy UV-500
Handy UV-800
format
QRU-2161-F
QRU-2161-E
QRU-2161-D
Used lamp
High pressure mercury lamp
HSL-300/B-FM
High pressure mercury lamp
HSL-500/C-FM
High pressure mercury lamp
HHL-800/C-FM
Lamp output
300W
500W
800W
Lamp emission length
60mm
60mm
100mm
Lamp cooling
Air-cooled exhaust
Air-cooled exhaust
Air-cooled exhaust
Reflection mirror
Aluminum condensing, diffusion Cold mirror condensing, diffusion (selection)
Filter (heat cut)
Quartz plate, cold filter (single-sided vapor deposition, double-sided vapor deposition) * Option
Irradiation area
130×130mm
130×130mm
120×130mm
Power supply
AC100V 50/60Hz 10A
AC100V 50/60Hz 15A
AC100V 50/60Hz 15A
External dimensions
Lamp house unit
Power supply unit
W180×D200×H200mm
W180×D290×H220mm
W180×D250×H212mm
W300×D370×H395mm
weight
Lamp house unit
Power supply unit
about 3.5Kg
about 15Kg
about 3.5Kg
about 18Kg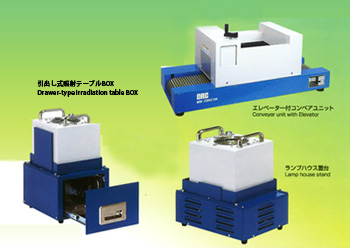 ■Various units・・・option
・Lamphouse stand
・Pull-out irradiation table box
・Conveyor unit with elevator
(※300, 500, 800W common)
Pull-out irradiation table box
Irradiation table dimensions
120×150mm
Maximum workpiece dimensions
W120×D150×H100mm
Power supply
AC100V 50/60Hz 3A
(Work cooling fan)
External dimensions
W224×D270×H218mm
weight
about 3Kg
Conveyor unit with elevator
| | |
| --- | --- |
| Belt width | 160mm |
| Input voltage | Single-phase 100V 50/60Hz |
| Input current | 3A |
| Capacitance | 300VA |
| Irradiation distance | 120×220mm |
| Conveyor speed | 0.2~20.m/min |
| Work size | 100×100min(W×H) |
| Conveyor method | SUS belt |
| Equipment dimensions | W820×D345×H393.5 |
| weight | adout 20Kg |