Small conveyor integrated type
Small conveyor integrated type
Compact and lightweight UV irradiation device ideal for UV curing experiments!
The J-Cure 1500 series is an ultraviolet irradiation device designed to efficiently irradiate ultraviolet rays with a wavelength of 250 to 420 nm using a metal halide lamp or a mercury lamp.
There are two types: conveyor type and irradiation box type, and you can select the model according to your purpose.
It supports a wide range of applications such as adhesive curing, insulating varnish resin curing, and curing for paint pretreatment.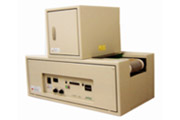 Characteristic
The small conveyor integrated type can be used for curing in a continuous small process.The conveyor speed can be varied from 1m to 10m, and it can be adapted to the application.
basic specifications
| | |
| --- | --- |
| Power supply part | Electronic ballast |
| Power frequency | 50/60Hz Shared |
| Lamp input | Dimmable continuously from 1kW to 1.5kW |
| Size | W800×D420×H616 |
| mass | 約60kg |
| Metal halide lamp | MJ-1500L Luminous length 125nm |
| Mercury lamp | HJ-1500L Luminous length 125nm |