UV-LED line irradiation unit
UV-LED line irradiation unit
A new generation of UV-LED line irradiation unit is here! !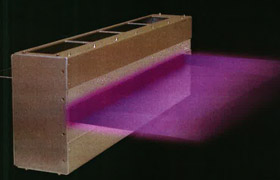 UV-LED irradiation unit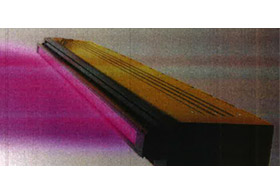 High brightness UV-irradiation unit
Characteristic
・8W / cm 2 power at a wavelength of 385nm!
・Industry's highest class high output!
・High output and high stability immediately after lighting.
・Produces sizes longer than 1m and can be long!
Main uses
・Drying UV ink
Inkjet printer
Offset printing
Label printing
・Drying of UV coating agent
Printed board
Building materials
IC card
・UV bonding
camera
TV set
Main specifications of high-intensity UV-LED line irradiation unit
| | |
| --- | --- |
| Performance | UV intensity (405nm) with emission area 4W / cm 2 |
| Adjustment / control | In addition to the overall dimming, it is possible to adjust the light distribution and ensure uniformity according to the installation situation by dimming each 50mm block individually. |
| maintenance | Easy replacement of air-cooled FAN (connector connection) |
| size | The light emission length can be selected freely in increments of 100mm. |
| Application | It can be used for various purposes such as printing, coating agent drying, resin curing, UV bonding, etc. in addition to fluorescent light emission inspection. |
| Advantages of LED | Thanks to the long life and safety unique to LEDs, it is easier to handle than lamps and can greatly reduce running costs. Easy to customize. Because of the short wavelength only in the UV-A region, there is little adverse effect on the human body and safety is improved. |