Area lighting (flat illuminator)
Thin, high-brightness transmissive surface illumination for image processing.
Light emitting surface sizes of 60 x 60 mm, 100 x 100 mm, A4, A3, and A2 are available as standard.
Emission colors are standard colors (three-wavelength day white), and color colors such as daylight, high color rendering specifications, and red, blue, and green are also available.

Adobe Acrobat Reader is required to view the PDF file.
Acrobat Reader is distributed free of charge by Adobe Systems Incorporated.
Area lighting (flat illuminator)
■Light emitting surface size
Light emitting surface size is 60 × 60mm, 100 × 100mm, A4 (212 × 302mm), A3 (302 × 425mm),
A rich lineup of A2 (600 x 425mm) is available.
Different sizes are possible by special order.
■Thin, high brightness, uniformity
The flat illuminator uses our original high brightness fluorescent lamp.
From 24,000lx / 8,800cd / ㎡ to 27,000lx / 10,000cd / ㎡ with high illuminance
It can be used for high-speed image processing systems that could not be processed due to lack of illumination.
Yes, you can. Since the uniformity is excellent at 90% at the 9-division illuminance ratio of the light emitting surface,
An ideal lighting effect can be obtained as backlighting.
Applications of surface lighting (flat illuminator)
■As backlight illumination, inspection of external shape such as pinholes, bubbles, foreign substances, etc. in transparent and translucent glass products and synthetic resin products.
■Inspection of scratches, rough surfaces, discolored parts, etc. on the surface of a highly reflective object such as a metal product by irradiating it obliquely.
■Extensive inspection by combining two flat illuminators.
■Inspection light source for LCD inspection process, substrate inspection process, optical characteristic inspection process, lighting inspection process.
■Light source for charts such as camera modules.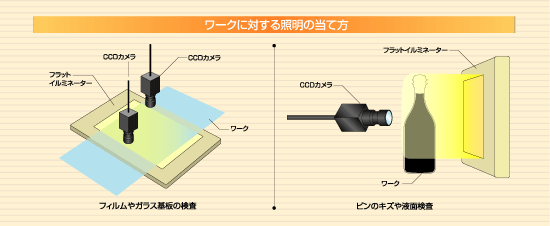 Area lighting HF-SL-100W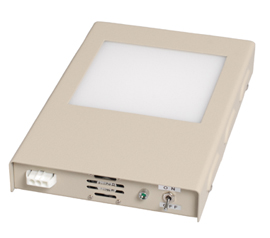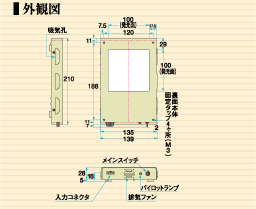 | | |
| --- | --- |
| Dimming function | – |
| Dimming range | – |
| Input voltage | DC24V±10% |
| Input current (at 24VDC) | 0.6A |
| Lamp current | 40mA±10% |
| Lamp power (1 light) | 5.3W |
| Light emitting surface illuminance | 33,000Lux |
| Luminance | 10,000cd/㎡ |
| Illumination ratio | 80% |
| Lighting frequency | 27kHz±10kHz |
| Operating temperature limit | 5℃~35℃ |
| Operating humidity range | 5%~85%(No condensation) |
| External dimensions | 210×135×28mm |
| weight | 460g |
| Light emitting surface size | 100×100mm |
| Used lamp | FU-150NEX/T7(×2) |
| Applicable power supply | SWD-MT1 |
Area lighting HF-SL-100WLCG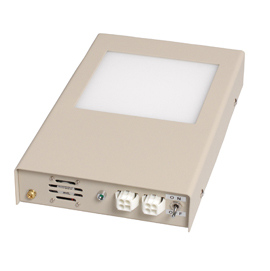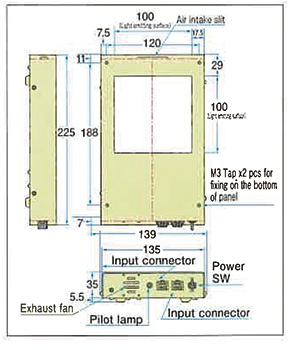 | | |
| --- | --- |
| Dimming function | Power supply VR dimming |
| Dimming range | 100%~60% |
| Input voltage | DC24V±10% |
| Input current (at 24VDC) | 0.5A |
| Lamp current | 32mA±10% |
| Lamp power (1 light) | 4.2W |
| Light emitting surface illuminance | 27,000Lux |
| Luminance | 9,000cd/㎡ |
| Illumination ratio | 80% |
| Lighting frequency | 34kHz±10kHz |
| Operating temperature limit | 5℃~35℃ |
| Operating humidity range | 5%~85%(No condensation) |
| External dimensions | 225×135×35mm |
| weight | 600g |
| Light emitting surface size | 100×100mm |
| Used lamp | FU-150NEX/T7(×2) |
| Applicable power supply | SWD-MT5 |
Area lighting HF-SL-A48LCG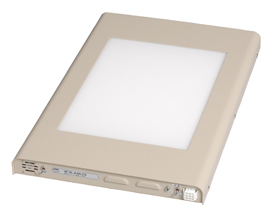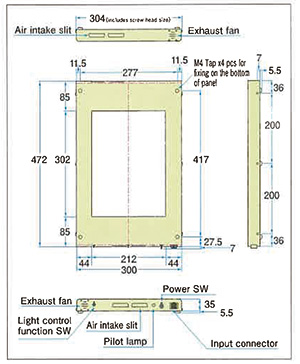 | | |
| --- | --- |
| Dimming function | Power supply VR dimming |
| Dimming range | 100%~60% |
| Input voltage | DC24V±10% |
| Input current (at 24VDC) | 2.5A |
| Lamp current | 32mA±10% |
| Lamp power (1 light) | 6W |
| Light emitting surface illuminance | 27,000Lux |
| Luminance | 10,000cd/㎡ |
| Illumination ratio | 90% |
| Lighting frequency | 34kHz±10kHz |
| Operating temperature limit | 5℃~35℃ |
| Operating humidity range | 5%~85%(No condensation) |
| External dimensions | 225×135×35mm |
| weight | 2.5kg |
| Light emitting surface size | 302×212mm |
| Used lamp | FS-400ND(×8) |
| Applicable power supply | SWD-MT5 or SWD-MT1 |
Area lighting HF-SL-A312LC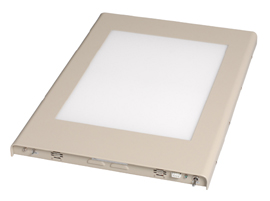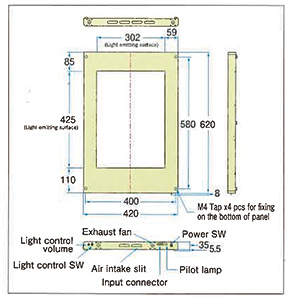 | | |
| --- | --- |
| Dimming function | Power supply VR dimming |
| Dimming range | 100%~60% |
| Input voltage | DC24V±10% |
| Input current (at 24VDC) | 4.7A |
| Lamp current | 32mA±10% |
| Lamp power (1 light) | 8W |
| Light emitting surface illuminance | 26,000Lux |
| Luminance | 10,000cd/㎡ |
| Illumination ratio | 90% |
| Lighting frequency | 34kHz±10kHz |
| Operating temperature limit | 5℃~35℃ |
| Operating humidity range | 5%~85%(No condensation) |
| External dimensions | 620×420×35mm |
| weight | 4.2kg |
| Light emitting surface size | 425×302mm |
| Used lamp | FS-530ND(×12) |
| Applicable power supply | SWD-MT2 |
Area lighting HF-SL-A214LC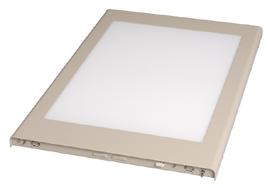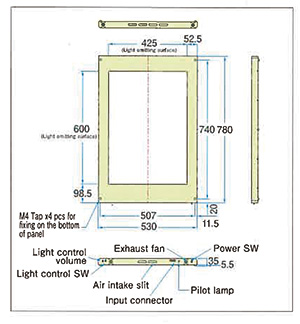 | | |
| --- | --- |
| Dimming function | Power supply VR dimming |
| Dimming range | 100%~60% |
| Input voltage | DC24V±10% |
| Input current (at 24VDC) | 7.2A |
| Lamp current | 32mA±10% |
| Lamp power (1 light) | 10W |
| Light emitting surface illuminance | 24,000Lux |
| Luminance | 8,800cd/㎡ |
| Illumination ratio | 90% |
| Lighting frequency | 34kHz±10kHz |
| Operating temperature limit | 5℃~35℃ |
| Operating humidity range | 5%~85%(No condensation) |
| External dimensions | 780×530×35mm |
| weight | 6.5kg |
| Light emitting surface size | 600×425mm |
| Used lamp | FS-700ND(×14本) |
| Applicable power supply | SWD-MT2 |